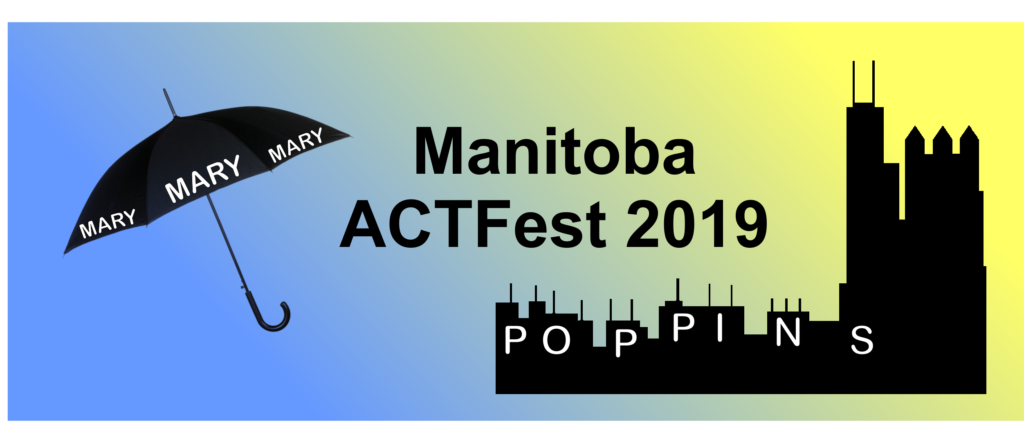 Home page for the 2019 ACTFest hosted by Prairie Players
Practically Perfect in Every Way!
This is our Mary Poppins inspired theme for the 40th Annual Act Festival, taking place April 26 – 28, 2019, in the William Glesby Centre, 11 2nd St. N.E. in Portage la Prairie, hosted by Prairie Players! Please feel free to show up dressed as your favourite Mary Poppins character!
2019 is a very exciting and eventful year, marking 3 anniversaries – Prairie Players' 50th Anniversary, ACT Festival's 40th Anniversary and the William Glesby Centre's 20th Anniversary! We're happy you will be joining us for the celebration!
It all begins Friday, April 26th with Registration from 5 – 9pm at the William Glesby Centre. Opening Ceremonies are at 7:30, followed by a play from Prairie Players all at the theatre, with the Wine and Cheese, across the hall at the Portage Arts Centre.
Saturday there are plays all day, with lunch at the theatre, and the day ends with a banquet and dance – venue to be determined.
Sunday there will be plays in the morning ending with lunch.
Below you can find all the forms needed to participate! All forms need to be mailed in. No online registration.
ACTFest Schedule: The ACTFest Schedule can be found here.
Information on the Adjudicator Workshops can be found here.
Our 3 Adjudicators are: Hope McIntyre, Jim Forsythe and Jan Skene.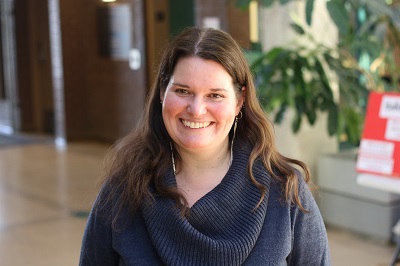 Hope McIntyre: Hope McIntyre is currently in the midst of her 20th year as Artistic Director of Sarasvàti Productions. She has a BFA in performance and an MFA in directing for theatre. She also completed a performance apprenticeship at ARTTS International in England. She is an award winning playwright and director who specializes in community collaboration. She has received the YWCA Women of Distinction Award for Arts and Culture, the Bra D'Or and the Women Helping Women Award. She has taught at Mount Allison, Brandon University, University of Manitoba and Prairie Theatre Exchange. She currently teaches at the University of Winnipeg. She is also a former President of the Playwrights Guild of Canada.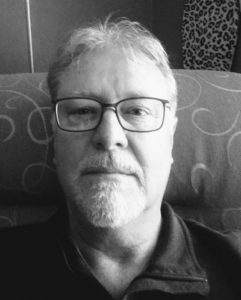 Jim Forsythe: Jim is a familiar face to most ACTFest participants as this is by no means the first time that he has joined this wonderful weekend of friendship and theatre. Probably the most important thing to know about him is that he genuinely cares about making you enjoy theatre whether you are on stage, backstage or in the audience. It has been his mission for the 29 years he has been the Drama prof at Brandon University. Since the last ACTFest Jim has been busy in Brandon producing and directing 'Bedtime Story' by Sean O'Casey and remounting his own play 'To Stand Again' about Syrian refugees recently arrived in Canada. On a more personal note he has just taken up temporary residence in the beautiful Cowichan Valley on Vancouver Island, something that will become more permanent if he can ever afford to retire. But first he needs to haul a sailboat over the mountains.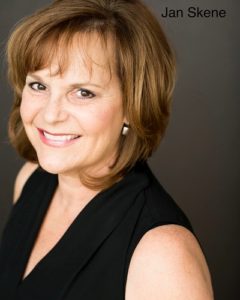 Jan Skene: wears many hats in Manitoba's arts and cultural community. She is best known as an accomplished actor/singer/director and television puppeteer, having appeared on almost all of Winnipeg's stages over the past 30 years, most recently in Happy Place at PTE, and in numerous film and television productions (see IMDB.com). Other notable theatre credits include White Christmas, The Diary of Anne Frank (RMTC), A Year with Frog and Toad; Honk (MTYP), Hersteria (WST), The King & I; Footloose (Rainbow Stage), A Little Night Music, Nine (Dry Cold Productions). Jan currently manages Creative Manitoba's Careers in the ARTS Youth Mentorship Program which has been matching young arts and cultural workers with experienced professionals for the past 10 years. In addition, Jan is President and National Councilor for ACTRA Manitoba, and manages Skene Stunts Inc. (which she co-founded with her husband Rick) and sings with the FuFuChiChi choir. She is proud to have grown her family and career in Winnipeg and is a huge "Made in Manitoba" arts champion.
To see the Accommodation list, click Here.

For Play Registration, click Here.
For Technical Registration, click Here.
For Meal Registration, click Here.
For Play Schedule, click Here
A stage diagram can be found HERE